TAYLORMADE STRATEGIES FOR EFFECTIVE ACTION PLANS
The establishment of an energy strategy is essential in order to carry out consistent and effective actions. Energy policies allow to set an evolution framework in the short, medium and long terms to define budget and necessary funding. Whether for businesses, organizations, communities or governments, ENERCAP brings its extensive expertise in the energy sector for the definition of local or national policies.
OUR APPROACH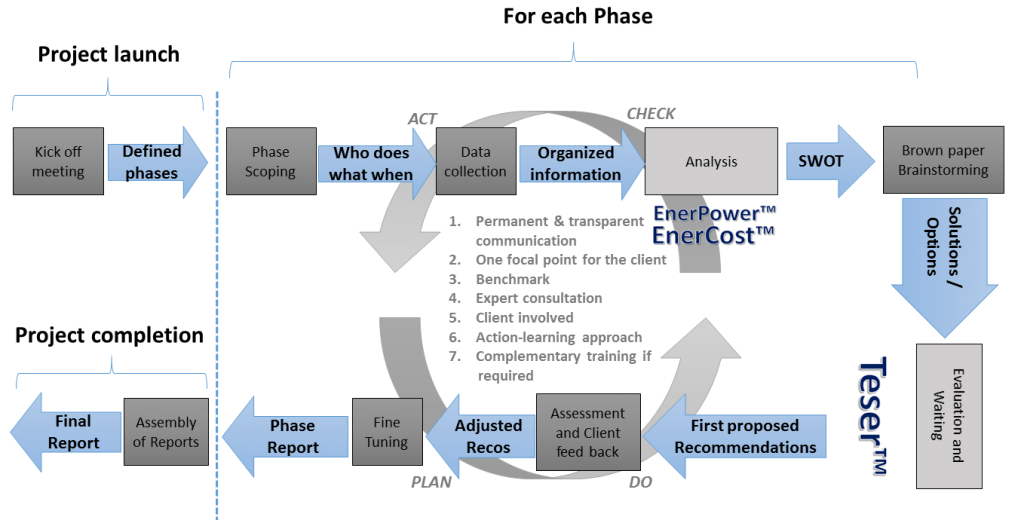 PREVIOUS PROJECTS
ENERGY STRATEGIES FOR COMPANIES
ENERCAP audited, reviewed and defined the energy strategy of a top 3 pharmaceutical company (120 sites worldwide – $ 1.5 bn annual energy budget).
ENERGY MIX FOR A COUNTRY
For a western African country ENERCAP studied an existing energy mix and – based on cost, delay, needs, and the environment – proposed 3 new scenario highlighting LNG and renewable options.
REENGINEERING OF AN AFRICAN UTILITY
ENERCAP and its partner have audited and proposed a new organization to improve performance, reduce cost, reduce technical and commercial losses, increase revenue collection, and more.
NATIONAL REGULATORY FRAMEWORK
In a west African country, ENERCAP defined and drafted 2 new regulatory frameworks for a smart grid and DSM.
TARIFFS AND PRICING
For an African country, ENERCAP with its partner defined both Tariff and Pricing Grids and Policies based on Production Park, costs, varying demand, structural factors and more.